The last two years have seen a significant shift towards organized events partly, if not entirely, in a virtual iteration. The global virtual events market size was valued at USD 94.04 billion in 2020 and is expected to quadruple from 2021 to 2028. The pandemic has forced event organizers to look at alternate methods to conduct the various types of virtual events and fairs with the limitations present. But first, let's get to know what a virtual event is.
Virtual Events, what are they?
Virtual events are online versions of live/in-person events that offer a host of exclusive benefits and features. These events are a great way to connect global audiences utilizing live chat, webinars, networking spaces, expo areas, and digital content, all served in a visually pleasing user experience.
The modern virtual event platforms have gone far beyond what most perceive as webinars on Zoom and Microsoft Teams. While these 'events' are easier to set up, they do not indicate the modern options and features available. In recent years, virtual event platforms have stood out in difficult times. With the pandemic hitting in 2020, all on-ground events had to redefine themselves or just disappear.
In the first incarnation of Virtual Event platforms, you had rudimentary features encompassing the 2D realm of space. While this was a step in the right direction, it lacked the immersion people expected to replicate from an on-ground event. But recently, new players in the event platform market have developed more interactive and immersive experiences in the 3D and 3D VR space.
Read More: Mistakes that you must avoid in your virtual events
This new era of virtual events provides the next level of immersion with features like virtual networking lounges, interactive exhibition booths for attendees to view products and interact with sales reps directly, and virtual helpdesks where attendees can acquire more information about the event itself. But it doesn't end there; new-age event platforms also have extended features that augment the experience, like gamified activities, social walls, photo booths, live polls, and even virtual event bags.
Why Choose a Virtual Event?
Virtual events combine all the characteristics of live events and take them into a new persona. These events expand on live events with exclusive features not present in any of them. It allows for near-infinite reach as the scope is really up to the organizer.
Organizers have been contemplating whether they should conduct a live, hybrid, or virtual event. While you might still lean towards the traditional live/in-person event, some benefits are only unlocked from taking it online.
Let's take a look at some of the benefits of virtual events:
Wide-reaching Accessibility: Incorporating virtual elements in your event can accommodate audiences from across the globe. Collaborate with sponsors worldwide, which is impossible in on-ground events. It provides unmatched reach to any event keen on expanding its foothold.
Scalable and Budget-friendly: When bringing the event online, you have the final say on how big and how expansive you want the event to be. Virtual events, in general, are cheaper than setting up on-ground events.
A new level of interaction: 3D Virtual events can have rich interactive features like Live Q&As, Polls, and various digital content. It also allows you to set up customized event lobbies, helpdesks, interactive discussions, virtual photo booths, social walls, and gamified activities.
There are various types of virtual events happening right now! Let's take a look at some of the most common ones:
Various types of virtual events are:
1. Virtual Summits and Conferences
Virtual Conferences particular type of event has greatly increased due to its high success rate. Using comprehensive online tools, organizers have reached a wider audience, can invite keynote speakers from across the globe, save money and achieve their goals more effectively than a live conference. One such event is the PDM 2021 (by the American Diabetes Association) BIG CIO Show which was done virtually via a virtual events platform.
2. Virtual Career Fairs & Job Fairs
Organizations are now making their best hires via virtual job fairs, such as the Solar Decathlon Design Challenge Finals 2020-21. Bringing the career fairs online with the help of video/audio one-on-1s, job boards, and live practical assignment tools. These types of virtual events are also an excellent opportunity for the companies to showcase their brand image to a global audience.
3. Virtual Onboarding Events
A robust onboarding program must be set in place to ensure companies direct their new hires from the foundation to win. The Welcome to HPE Event or HPE Discover Event by HP is an excellent example of how a company can showcase what they're all about. It also had enhanced interactivity with features like immersive auditoriums, virtual photo booths, and networking lounges with video/audio chat rooms for new joiners to engage with each other. Conducting these online can boost productivity. But perhaps the most significant asset is that companies can measure and modify their offerings according to their feedback.
4. Group meetings / Webinars
Online group meetings and webinars are, without a doubt, the most common types of virtual events. Webinars are essentially online discussions and presentations that connect people worldwide in real time. These events are generally accompanied by interactive features like Q&A sessions and Live Polls to boost engagement. You can choose a simplified platform like Zoom meetings for more casual uses. You can also opt for a more personalized 3D branded webinar platform with greater immersion, gamification, and social interaction, like photo booths and social walls.
5. Virtual Company Benefits Fair
Making the right hire is essential for many businesses, and bringing your employees to perform their best is crucial to any business. Removing the hassle of HR teams interacting with employees to inform them about company benefits manually is a massive boon to any organization. Companies can now conduct a virtual benefits fair that showcases all employee benefits richly and interactively.
6. Online Trade Shows & Exhibitions
Maximizing profits can be best done by reaching out to a global audience, and that's how companies are now expanding their prospects. These virtual trade shows and exhibitions give new and interactive ways for potential customers to learn about the latest products and services.
Companies can now set up interactive and customizable 3D booths to showcase their latest offerings and communicate directly with attendees in grand virtual expo halls that can house hundreds of exhibitors and plenty of branding opportunities. With the help of additional tools like live chat, private meeting rooms,in-booth webinars,360 product showcases, brochure stands, and virtual business card exchanging, these companies can obtain leads and close large ticket deals during the event itself. Some top virtual event providers also offer e-commerce modules and detailed analytics for exhibitors to capture leads, determine ROI, and capture valuable marketing intelligence.
The TPB 6th Regional Travel Fair 2020 housed 200 exhibitors across 16 Virtual Expo halls!
7. Virtual Wedding Exhibitions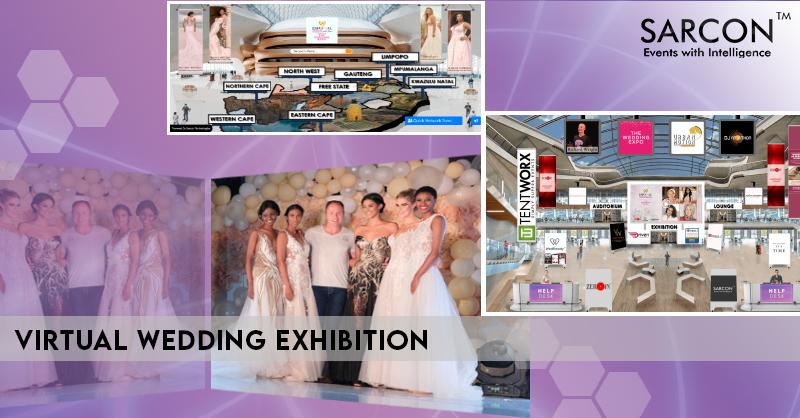 While wedding planning can be quite a challenge, it can be remedied by condensing it into a one-stop solution in the form of a virtual wedding exhibition. Instead of chasing after different vendors for things like catering, event planners, and photographers, attendees can get all of them under one roof to easily take their pick.
8. Virtual Award Shows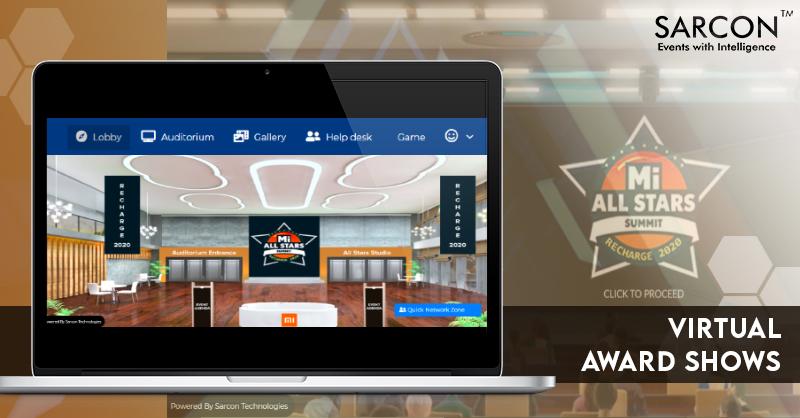 With the ongoing pandemic, many significant award shows have transformed into hybrid events. Some events like the Oscars and the Game awards show already featured their live stream alongside the live event itself simultaneously taking place. Online audiences had extra features like live chat and cue cards for further interactivity. 
9. Virtual University Fairs
These have the distinct advantage of being accessible to anyone worldwide. With this diversity, virtual events of the following type help students & alumni engage with universities and employers worldwide.
Virtual Education Fairs showcase the universities' infrastructure and available courses to global students all in one spot. It can also bridge the gap between students and alumni with the help of webinars, video/audio discussions, and interactive elements to learn more about the institution. Another great use is students' direct engagement with leading employers for career opportunities.
Conclusion
There is an ever-growing list of various events coming into a virtual persona, and 92.2% of those who held a virtual conference say they will again (Tagoras Report).
Learn more about how you can organize one yourself here.