What is a virtual events platform?
Virtual events platform combines various tools and features to plan, promote, and execute online events. These tools are designed to help recreate the same feeling of in-person events through digital experiences. Due to their highly adaptable nature, virtual event platforms are suitable for executing various events like tradeshows, conferences, expos, etc. They also allow organizers to take advantage of unique benefits exclusive to virtual events.
Meeting professionals feel more confident and well-equipped to plan high-quality meetings and events and adapt to ongoing uncertainties. As stated by the 2022 Global Meetings and Events Forecast, the 11th annual report produced by American Express Meetings & Events, a division of American Express Global Business Travel (GBT):
The report's global survey of meetings and events professionals found that two-thirds (67%) of respondents believe in-person meeting levels will return to their pre-pandemic numbers within one to two years.
And what about the Virtual event platform market?According to a Research Report by Polaris, The global virtual event platform market valued at USD 10.37 billion in 2021 is expected to grow at a CAGR of 13.0% during the forecast period.
The growing industry adoption by over 80% of event organizers is driving considerable growth in the global virtual event platform market.
Virtual events can be presented in various mediums such as a '2-D esque' Web-based/bulletin style preset, a static or animated 3-D recreation of real physical event spaces (like Lobbies, Auditoriums, and so on), or complete 3-D 360-degree fully immersive environments where users can freely roam and interact within.
Types of virtual events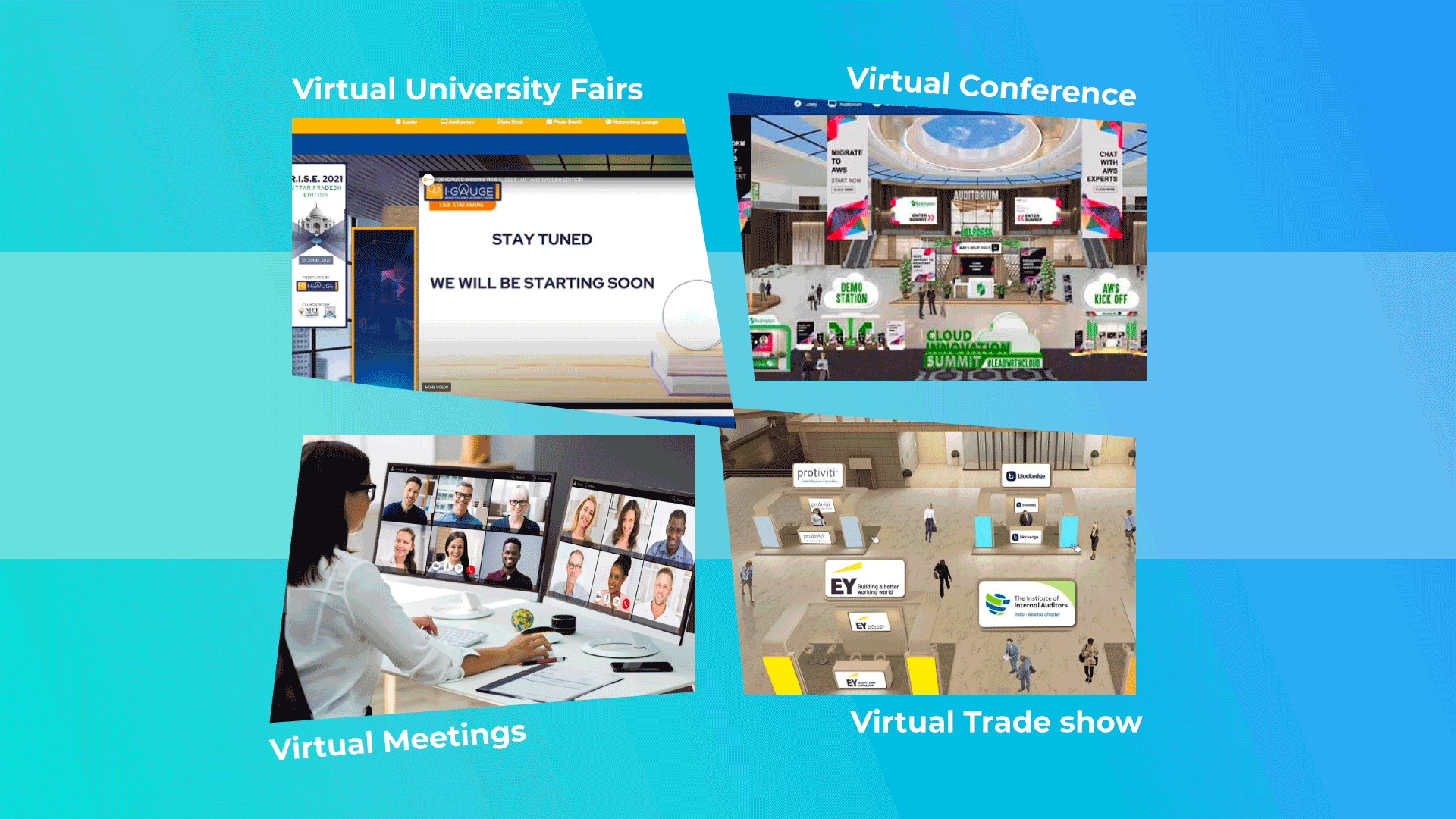 Virtual Event platforms are catered to the user's requirements and, as such, can execute a wide variety of event types. Many-if, not all, traditional in-person events can be successfully done on a virtual event platform. These platforms come equipped with various ways their offerings can be modulated according to an organizer's specific needs. This, in turn, dramatically increases the potential for what types of events can be produced. Let's take a comprehensive look at what kinds of events a virtual event platform is capable of executing:
Virtual Tradeshows and Expos
Just like in-person tradeshows, virtual event platforms can execute virtual tradeshows comprising all the elements that people are familiar with. Virtual tradeshows have interactive and dynamic 3-D presentations of all the core aspects of in-person tradeshows, combined with various tools and features to engage audiences and business leads globally. Because all the tradeshow components are present in one spot, this makes it infinitely easier and accessible for anyone with a smartphone, tablet, or computer. Virtual tradeshows also eliminate the extremely high costs, cumbersome event planning, variable attendee turnout, and limited reach of in-person tradeshows. We have also made a list of the best virtual tradeshow platforms in case you want to one.
Virtual Meetings
While meetings are conducted online by services like Zoom and Google, they fail to encapsulate the real feeling of the good old in-person meetings. Virtual event platforms aim to change that by providing a highly interactive and engaging experience that drags people away from the tired old interface. After all, why should meetings be boring? The familiarity and camaraderie of face-to-face encounters can be replicated in Virtual Meetings through chat rooms, contests, recreational rooms with games and activities, and more.
Virtual Product launches
These events are a great way to give exposure to your latest offerings on a global scale. Virtual iteration of product launches can be combined with the unique benefits of virtual event platforms to give attendees a greater sense of interaction with things like chatting with sales reps, business card exchange, networking lounges, and direct product viewership. In addition, virtual event platforms can expand the feature list with options like Modular booth editing/updating by organizers and exhibitors, enhanced analytics for better insights and Brochure standees, and Video and Image standees.
Virtual University Fairs
These have the distinct advantage of being accessible to anyone worldwide. With this diversity, virtual events of the following type help students & alumni engage with universities and employers worldwide. Virtual Education Fairs showcase the universities' infrastructure and available courses to global students all in one spot. It can also bridge the gap between students and alumni with the help of webinars, video/audio discussions, and interactive elements to learn more about the institution. Another great use is students' direct engagement with leading employers for career opportunities.
Virtual Onboarding Events
A robust onboarding program must ensure companies direct their new hires from the foundation to win. These virtual onboarding events have enhanced interactivity with features like immersive auditoriums, virtual photo booths, and networking lounges with video/audio chat rooms for new joiners to engage with each other. Conducting these online can boost productivity. But perhaps the most significant asset is that companies can measure and modify their offerings according to their feedback, which would likely be more difficult if conducted in person.
Virtual Conference
One of the most common types of virtual events is the virtual conference. The entire conference can be digitally facilitated using virtual event platforms, from registration to audience participation to speaker feedback. They also provide engagement features like direct video chat and business card exchanges, enabling effective networking between attendees, business prospects, sponsors, and more.
Why we need a virtual event platform?
Many marketers know the benefits of hosting in-person events. Especially in B2B marketing, developing relationships with your prospects and customers is pivotal. However, in many cases, there are more benefits to hosting virtual events.
The COVID-19 pandemic accelerated the adoption of virtual events in companies' marketing mix worldwide. Most companies will host over 20 virtual events per year!
So why are so many companies hosting virtual events? 
The main reason companies host virtual events is that they are scalable, have low barriers to entry, are cheaper, and provide networking possibilities when in-person events are not an option.
Why the hybrid model is the best
The main goal of Hybrid events is to deliver high-quality shared event experiences to your audience participating on-ground and online. The benefits of engaging and nurturing the audience make the pursuit worthwhile. 
There are three parts to the Hybrid event equation. The obvious ones are The on-ground event experience and the virtual event experience. The not-so-obvious part is the interface that brings these worlds together. This interface should blur the boundaries and blend the worlds. Otherwise, the on-ground event and its virtual counterpart will stick out like oil and water that neither adds value to the audience nor your sponsor. 
The most important part of the equation is the interface for audiences and sponsors to derive value from your hybrid event. The interface is a play of event design and technology. 
For SMBs, on average, 56% of attendees join the in-person event, and 44% attend the virtual version of a hybrid event.
And 71% of organizations with 5000+ employees have hybrid events in their portfolio. This indicates that larger companies are more likely to host hybrid events.
What are Hybrid events?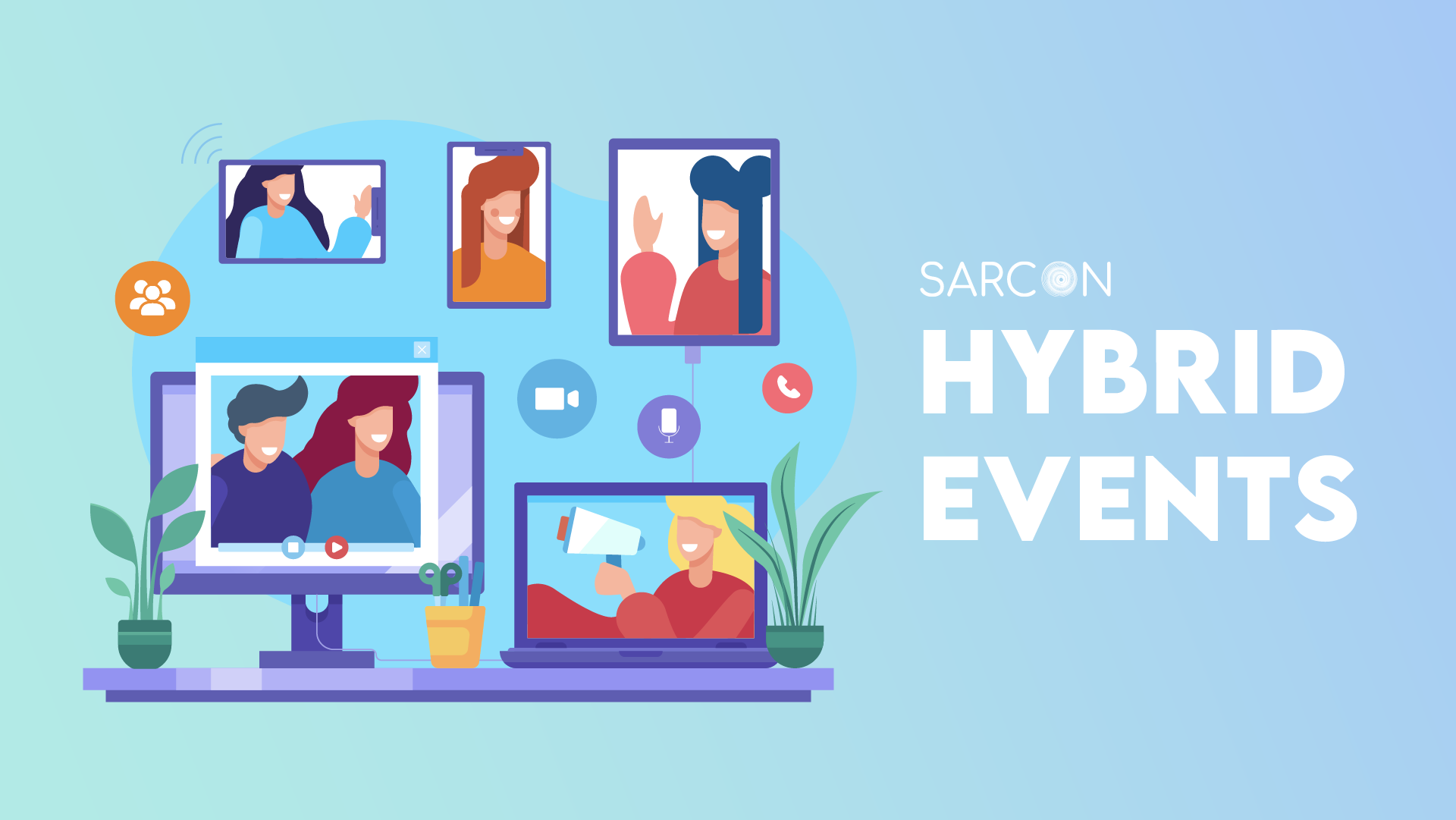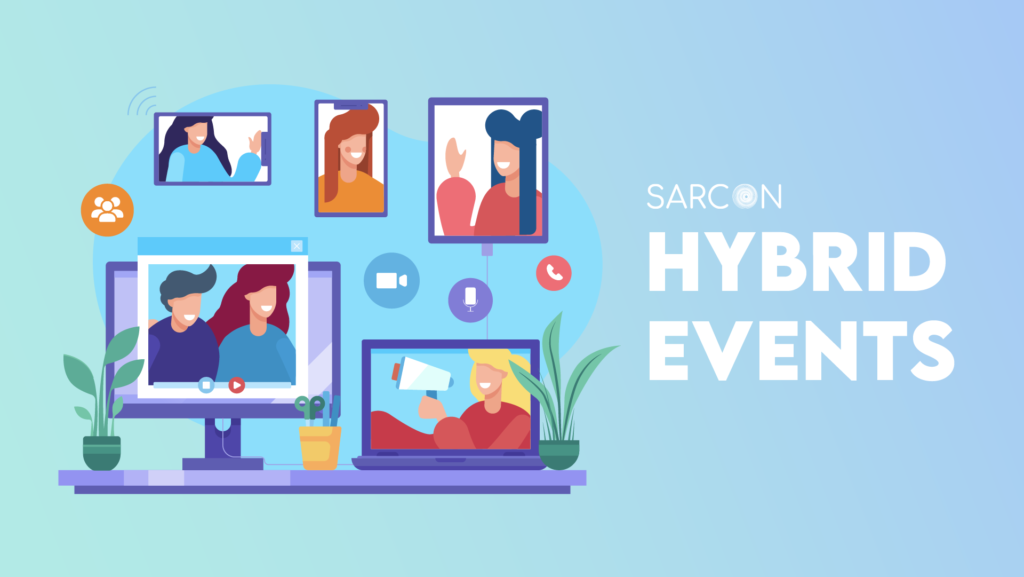 Hybrid event platforms like Sarcon bring the on-ground and virtual worlds together through the magic of technology and engagement. At the core of these platforms is the facilitation of engagement with content and fellow audiences regardless of their mode of participation. 
The event design and the hybrid event platform both need to enable audiences to have meaningful interactions with the event content and their peers. This is the shortest route to creating a high-quality shared event experience that derives value from your stakeholders. 
Why should people host hybrid events?
A Hybrid event platform can make or break the event in most cases; when putting together a sponsorship package for a hybrid event, it's also important to keep the unique selling points (USP) of this type of event in mind: that you are offering your sponsors a powerful physical and virtual presence, with enhanced analytics.
Detailed Analytics
VE (Virtual event) platforms are often the exact thing sponsors need to obtain far greater insights into visitors' interactions with their various product placements and booths throughout the event. As an organizer, this is a huge selling point; on platforms like Sarcon, you can offer varying data and insights to your exhibitors. And also give numerous branding options inside and outside the booths.
Immersive Virtual booth alongside the classic physical: Platforms like Sarcon allow you to custom fit sponsors into various elements in specialized booth designs. This gives sponsors the freedom of expression in their way of presenting themselves to potential clients and leads. The booths themselves can have representatives ready to chat in 1on1 with anyone looking to explore further.
Sponsored content
Platforms like Sarcon give various opportunities for your sponsors to exist in more than just the booths. They can be an active part of your event as well. You can pitch sponsors to the intro in speaking sessions or even organize a hybrid breakout session where people can directly interact with them.
Solid cross-platform networking
The hybrid event platform you end up using must enable people to connect seamlessly with each other. This is one of the most important parts of many Hybrid events. On Sarcon, the matchmaking feature allows participants (even if they are on-ground) to easily sort out who they would like to connect with based on various criteria, such as location, industry, and job position level. This, combined with quick networking zones and easy business card exchange, all available after the event is concluded, is a godsend.
Post-Event Impact
While the event may last a few days or weeks, that doesn't mean people should not be able to still check it out. One of the absolute best features you can get on platforms like Sarcon is having almost the entire virtual portion of the event available long after as an on-demand service. People who missed the event can check out almost everything and get valuable business contacts. Making the event available offline after completion is one of the major benefits of using an event management platform.
Unique benefits of Hybrid Events
Broad audience reach: Thanks to the virtual component, attendees can join from anywhere worldwide.
Convenient for attendees: while many will want to attend live, having a virtual component also allows those who don't have the time or resources to travel to still be a part of your event.
Environmentally friendly: you need fewer resources and will create less waste when a significant percentage of your audience is attending remotely.
Higher ROI: virtual events are generally cheaper to organize, and a hybrid event will give more returns than a live event of the same scale.
Data insights: useful data from online participation, engagement, etc.
Different use cases
Converting in-person and virtual events into Hybrid
The Basic Hybrid Event Model
The most well-known of the hybrid event models is the basic model. The simplicity of this model makes it attractive to event planners. They simply bring in the technical crew to stream the content to the virtual attendees from the physical location used for the in-person event.
The HQ and Hubs Model
A step from the basic model is the version that includes hubs. Hubs are additional physical locations where in-person attendees meet. The hubs are smaller than the HQ (lead) venue used for streaming. As with the basic model, virtual attendees can join if they have a web link.
Even though this model has a lead venue which is where the technical crew and streaming take place, there is the opportunity for the hubs to run their own activities for attendees. This breaks the dependency on everything coming from the HQ venue.
This model means that the in-person attendees do not have to go to the main location. Therefore they have a greater choice in deciding how much or how little travelling they want to do.  Having hubs also adds another dimension to the attendee experience. It does, of course, result in additional complexity for the planner in producing the event.
Multi-Hub Model
The multiple hubs model is an extension of the HQ and hubs version. In this model, you have a number of hubs where people meet in person. The hubs are connected through technology, and virtual attendees can participate as usual.
More planning is required to ensure all the different hubs seamlessly contribute to the overall event. This model will likely become very popular in the coming years as connectivity becomes more accessible thanks to hybrid event platforms.
Passive And Interactive Hybrid Events
While the above models are generally used in hybrid event planning, it depends more on how interactive you want it to be. A hybrid event can be passive, where attendees just attend, and there isn't much connectivity between the different audience types, but that is not where hybrid events are going nowadays. It's now, more than ever, to have your hybrid event be interactive, as it is a pivotal driver in engagement.
For example, the virtual attendees could just enjoy the content streamed to them. It works well for some event types, focusing on giving information and not encouraging questions or comments. They never encourage interaction, and it wouldn't make sense for them to do so.  What sessions do you have where passive viewing would work best?
Hybrid events can be as interactive as you want to make them. The virtual attendees can become involved and interact in a variety of ways. They can be encouraged to send in questions, participate in chats, and participate in group tasks involving in-person and virtual attendees. All you need to do is design your event that allows them to participate without 'blocks'.
Benefits of using a virtual events platform
Lower Costs
Virtual Events are extremely cost-efficient compared to on-ground events. The platform's scalability makes it incredibly affordable while providing similar levels of engagement, even though the attendees are virtual.
Longer Reach
A virtual event can be hosted anywhere, and anyone from around the world can attend it. Attendees, exhibitors, keynote speakers, and others collectively present at the virtual event. There are no boundaries as to who can participate.
Effective Engagement
Virtual events allow you to interact with potentially thousands of people at once. With recent advancements, virtual event platforms now have fully immersive 3D and VR-enabled features and interactions replicating the on-ground events. As well as having a slew of features like virtual lounges, chat rooms, games, and much more right in the virtual event.
Better Tracking Metrics
The virtual event is held entirely online. Event organizers who use a suitable event platform will access various information and data about the event in the appropriate dashboard. This data can then be quickly sent to the desired people (like sponsors and exhibitors) for easy evaluation.
Reduced Event Content Decay
Virtual events demand digital content; there is no real need for traditional content. However, there is more emphasis on high-quality and unique content as the drop-off ratio can be higher (as people inherently can get distracted in online events). This content can then also be reused in future promotions.
Unlimited Access to sponsors
As the popularity of virtual events increases, the demand for sponsors to have a place at these events rapidly increases, as they now see a greater ROI in participating in them.
Features to look for in a virtual events platform
Mobile compatibility
Not every attendee and speaker will be able to join the event on their desktop PC or laptop. This is why ensuring your platform can function properly on mobile devices such as smartphones and tablets is important.
Virtual events platforms like Sarcon have a fully equipped Android app and a web interface that displays on all the popular web browsers on both PC and mobile.
Custom branding
Customizable branding solutions are a key aspect when selecting a virtual events platform. From the overall theme of the event to the individual design elements of the booths, it's one of the most important offerings to be looking out for. Nowadays, virtual event platforms offer customizable templates that make the entire vent set up fast and easy. Take Sarcon, for example; here, you can choose from several event templates and designs to quickly set up the core areas of the event, or you can customizable on top of blank templates to make the event look just how you want it.
Platform Security
Security of your event is paramount, as you do not want to have the information of your attendees, speakers, sponsors, and more leaked to unwanted people. Every virtual event platform should have a security certificate such as the GDPR (General Data Protection Regulation), platforms like Sarcon are also ISO 270001 certified to ensure nothing confidential can be accessed by unscrupulous characters.
Engagement features
Engage features like Live Polls, Video and Text Chat, Contests, Leaderboards, Virtual lounges, social media integration, content sharing, games, and direct contact with sponsors and speakers are a mainstay in virtual event platforms. These are core features that should be expected by any organizer. Event platforms like Sarcon offer seamless event gamification, giving organisers much greater engagement tools depending on the event type.
Post-event reporting
Measuring the core KPIs of your event doesn't end after the event is completed. It is important to select a platform like Sarcon that allows users to track, manage and extrapolate various data points to have a comprehensive pool of important information that they can use to improve their future events and make better decisions.
Hybrid event features
While virtual events platform can be tailor-made to accommodate various virtual event types, it is also a good indicator that the same platform is fully capable of executing a hybrid event. Choosing a platform like Sarcon that has experience in creating engaging hybrid events will give confidence to those who would like to host a marquee hybrid event or convert an on-ground or virtual event into a hybrid one.