Generating qualified leads and showcasing products to potential customers doesn't have to be tiresome and complicated. A trade show to bring potential customers together doesn't necessarily have to be cumbersome.
With the ease of technological advancements, businesses can use innovative methods and maximize their ROI. They don't have to spend vast sums of money on redundant things.
The advent of virtual events is transforming the entire landscape of qualified lead generation. It is no surprise that virtual and hybrid events will only get bigger from this point on.
Virtual tradeshows have become popular in this scenario, and to understand what makes them popular, here is a closer look at their tools and features.
What is a Virtual Trade Show and How to Host Your own Virtual Trade Show?
A virtual trade show is an online version of an event where one exhibits goods and services pertaining to their industry. Organizations display their products and services while providing more in the most convenient way possible.
A virtual tradeshow is a great space for networking and meeting new sellers and buyers, and generating new leads. It also allows companies to tap into new global markets.
 Maximized reach, reduced cost, powerful engagement & lead generation tools.
Benefits of Virtual Trade Shows
Greater Global Reach
Due to its online nature, your trade show can help gain leads worldwide. Additionally, keeping your event on-demand gives access to more people in different time zones spread across the globe.
Lower Costs, More ROI
Virtual tradeshow costs significantly less than a physical event; thus, your event will have a higher ROI. A virtual tradeshow is a better bang for your buck with a greater global reach, tiered ticketing options, and myriad sponsorship opportunities.
Increased Accessibility
Virtual trade shows are, without a doubt, a fantastic platform for differently abled people. Contrary to physical events, these events provide several options to assist individuals with impairments and other disabilities, providing equal benefits as any other visitor.
Beneficial to the Environment
Approximately 600,000 tons of waste are produced yearly at trade shows, increasing the carbon footprint and contributing to climatic change. Virtual tradeshows eliminate the use of paper and other harmful materials.
Features of a Virtual Trade Show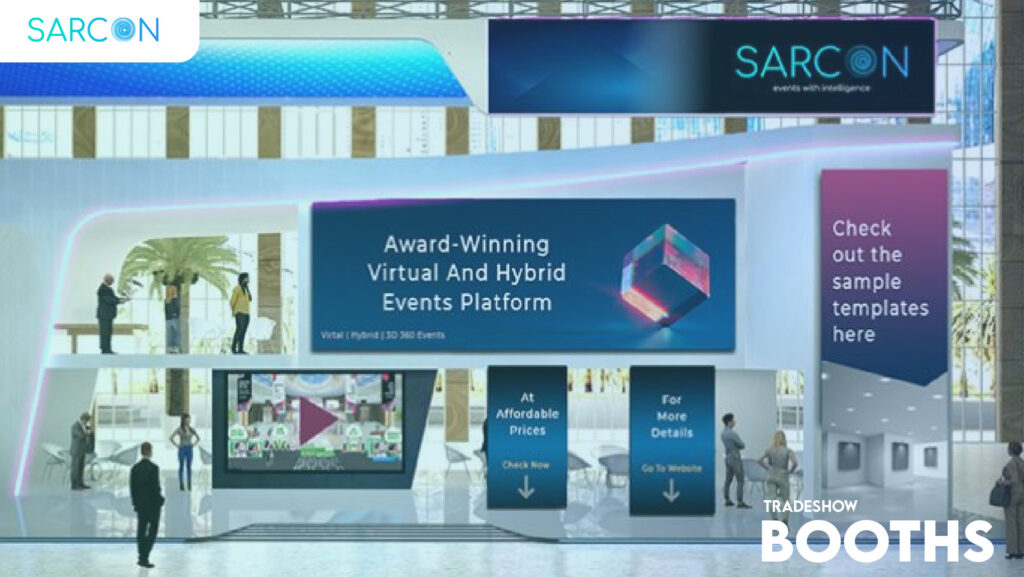 Here are some key features to look for in a virtual tradeshow platform.
Cross-device Functionality
Mobile devices and smartphones are at the heart of day-to-day routines for individuals. Event accessibility through a mobile app allows attendees to tune in and participate from anywhere. This exponentially maximizes the attendee's participation.
If your attendees do not have access to their laptops or are stuck in traffic or commuting, they can easily log in from their mobile devices.
3D Designs
A cutting-edge virtual tradeshow platform gives you the power to provide your audience with a memorable experience as soon as they walk into your virtual tradeshow. You can build enticing 3D environments right from a rich, visually compelling landing page.
Eventually, you can scale to a highly customizable interface for your exhibitors and attendees. With a robust platform, you can create immersive environments and a diverse set of custom avatars.
Networking Tools
A successful event is directly proportional to the interaction between visitors and exhibitors. Tools for integrating live chat, surveys, Q&As, and polls help provide attendees with relevant information and assistance. 
It can also improve your conversion rates by addressing FAQs in group chat rooms or reserved chat slots. Targeting multiple online prospects becomes fluid and seamless.
Engagement tools like a real-time chat platform can help to engage and educate prospects at your event.  A 1:1 text, audio & video chat enables you to remove the hassle of long queues around booths.
Custom Designs and Templates for Branded Booths
Setting up booths and following up with vendors to prepare marketing material is a hassle. Virtual tradeshows eliminate these issues, making you and your exhibitors know their brand presence throughout the event. They give your exhibitors the right tools to customize their booths and upload downloadable resources for the attendees.
Complete Control Over the Event Flow
Set up and push pop-up announcements to keep your audience informed conveniently. Turn on mobile notifications on your mobile event app to keep your audience posted with live updates during the event. A virtual tradeshow gives you the power to grab the attention of your attendees using pop-up notifications. 
Live Virtual Sessions in Real-time
When you have a global audience in one place at a single time, you would want to invite industry specialists and keynote speakers who can provide valuable information.
A virtual platform eliminates the concerns about your speakers' availability with respect to different time zones. Use live webinars to engage large crowds simultaneously. Further, on-demand recordings can help amplify that exposure.
Including Q&A sessions at the end of each virtual webinar can boost engagement at your event and nurture your leads.
E-commerce Integration Platform
Virtual tradeshows allow exhibitors to easily showcase their products and services to individuals across the globe. They easily help in converting global prospects into sales.
You can embed an online shop at your event; attendees can add their favourite products to their shopping cart as they keep on exploring the event.
In this manner, one can eliminate purchasing delays, make real-time transactions, and maximize conversions. Payment portal integrations make the whole process seamless for your audience and vendors.
Detailed Reports and Analytics
Access to real-time relevant data in this era is extremely valuable. Unlike physical tradeshows, virtual tradeshows provide detailed reports at the end of your event. Measuring ROI for future strategies becomes easier.
Plus, one can monitor and regulate specific booths if required.
Event Gamification for Increased Engagement
With an advanced event management platform, you can build and host games such as scavenger hunts, trivia, and much more. You can also include a virtual leaderboard where attendees can keep track of their scores.
Virtual Tradeshow Ideas and Types of Virtual Events
Any industry can hold a virtual tradeshow. Here are some ideas for the type of virtual tradeshow that can be hosted.
Virtual Property Show
Hosting a virtual property helps you in targeting a global audience. A virtual property fair can help you promote overseas properties to buyers in different geographic locations.
Companies can connect with real estate agents and lawyers, informing them about the buying process and laws in the countries in real time.
Virtual Food Show
Leading distributors & manufacturers can easily boost their profits and add value to the entire food industry.
A virtual tradeshow for the ones involved in the food industry can successfully help them achieve higher registration volume, insightful communications, and extraordinary branding.
Virtual Technology Show
The intangible and tangible benefits of hosting a virtual tech show can play a significant role in your business.
In today's competitive environment, tech industrialists are switching to virtual alternatives. Using a virtual tradeshow platform, they can showcase powerful technologies on a larger scale with the best resources available.
Virtual Trade Show Planning Checklist
Analyze the right platforms
It is essential to ask your virtual events platform provider for a demo and test the technology yourself before you commit. Check whether the platform is user-friendly for everyone across the globe, not just for those technically inclined. It is important to try out multiple platforms and features.
Conceptualize and Strategize
Identify your objectives, set clear goals for the team, and align the expected outcome. You can eventually move in the planned direction while monitoring and regulating the event as it takes place.
Use real-time data analytics
One of the key selling points of a virtual event is that you can monitor and evaluate your performance. Unlike a physical trade show, this can allow you to both quantify and justify results.
Create a holistic marketing strategy that targets multiple channels. The following section will walk you through a detailed marketing manual.
The security options at your disposal are tantamount to your event's success. Inquire carefully about the security options provided by your virtual events platform provider before hosting a virtual tradeshow. This aspect is vital for the attendee, sponsor, and host security.
Devise your event schedule
Tradeshows are huge and most of them go on for days. It is essential for your attendees to have a schedule showing the complete agenda. Your process should accommodate multiple time zones. After you have finalized the details, share the schedule on your landing page to keep your attendees and exhibitors in the loop.
Effectively Marketing Your Virtual Tradeshow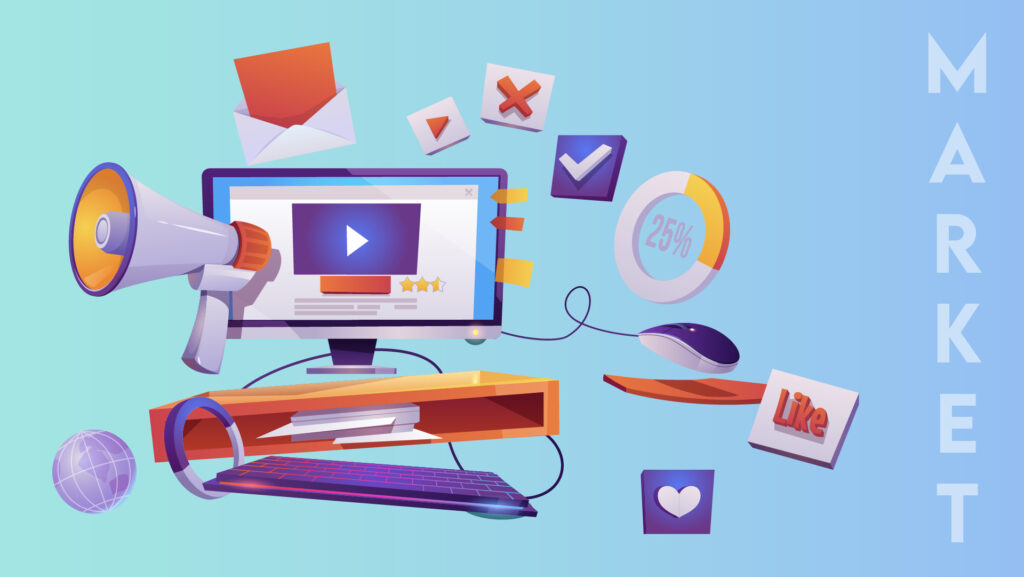 Once you have decided on the nitty-gritty of your virtual tradeshow, the next step is to create an effective marketing campaign. Here are some steps to help lay down a great marketing plan for your virtual tradeshow.
For Attendees
Email marketing campaign 
A landing page for your website about the event
Social media outreach to create the buzz
1. Email Marketing
Set up an elaborate email marketing campaign and leverage your existing email list. Create a captivating event invitation to send out to your list. This is a quick way to market to interested prospects.
Create crisp and engaging emails with solid subject lines. The body of the email should be to the point and contain relevant visuals. Populate the email with key information mentioning the show's time and the date and a link to your landing page or registration form.
You may want to share a weekly scheduled email chain reminding them about the event.
2. Landing pages
Simultaneously, you will need a great landing page to market your event. A decent landing page will provide the details of your tradeshow to the audience. It will contain the event registration form and a gateway to log in to the event.
Ensure your landing page is optimized for search engines and has registration and login links. This page will help you collect relevant information such as email, first and last name, contact details, etc.
3. Create a buzz
Social media platforms can bring an unprecedented amount of attention if done right. Announce your virtual trade show well in advance, and keep sending regular reminders.
Try and build anticipation on social platforms to keep the prospects hooked. Meanwhile, keep interacting with your audience online through comments. It is essential to create a positive outlook on your brand.
You can use your company's website and social media platforms to promote the event. Show well-placed messages to website visitors and funnel them to your event landing page. 
Create a CTA asking them to register for the event.
For Exhibitors
There are powerful features that can help exhibitors stay on top of their game and provide an unparalleled event experience for their attendees. They can enhance audience interaction and boost customer engagement by employing live chat tools and webinars.
Provide the attendees with the option to download content through presentations, videos, and documents. Also, monitor your booth and regulate available content in real-time. Customize booths without the hassle of vendors and printers.
Exhibitors can constantly evaluate booth performance with detailed reports and insights. The data can consist of the number of participants, booth visits & the type of sources driving the audience to the event.
Virtual Trade Show Analytics
As an exhibitor, one can significantly benefit from the comprehensive reports generated by the platforms on which they host the virtual tradeshow. This helps understand the audience and optimize any future events.
1. Event Registration Optimization
Optimizing your registrations will increase the chances of increasing the number of attendees at your event. Track your marketing efforts' performance and conversions from your virtual event platform dashboard. 
Identify the channels through which most conversions are happening and optimize them accordingly.
Keep an eye on how your landing page is performing.
If needed, run A/B tests with these options in mind to optimize your landing page and registration forms. Start your marketing efforts early to optimize them for the best results.
2. Understand the Demographic
Knowing your target audience well is imperative in providing a tailored event experience.
You can ask them questions based on:
Their areas of interest
Their preferred exhibitors and speakers
The expected outcome from this trade show
Insights from these questions help you offer a more personalized experience to your attendees. Ask these questions after your prospects have entered your event funnel and not before or during the registration.
3. Attendee Preferences
After the event is live, it's time to learn the fan-favourite aspects of your tradeshow. Track attendee journeys with the help of analytics during the event. Learn about attendees' booths, which representatives they talk to, and those speaker sessions that get the most attention.
Use a virtual event platform that helps collect this data for you. Such a platform will help you get in-depth attendee insights that can be used to optimize future events.
Frequently Asked Questions
1.  How do you build a virtual trade show?
Using a robust event builder platform and a dedicated customer success team.
2. What exactly is a virtual trade show?
A virtual trade show consists of a dynamic 3D environment that mimics the nuances of a physical show. It is coupled with tools to engage a global audience.
3. How does a virtual trade show work?
Consisting of a 3D virtual environment, the virtual trade show encompasses everything from an auditorium, and an exhibit hall, to a virtual lobby. Attendees have access to exhibitor booths to get more information. 
Conclusion
Trade shows allow businesses of all sizes to promote their brand and showcase their products and services to a diverse group of individuals across the globe. They provide enormous opportunities for generating qualified leads and skyrocketing sales.
Virtual trade shows are now reinventing how businesses can maximize their profits and keep their carbon footprint in check. These opportunities are just beginning to blossom as businesses across the globe are now growing beyond borders.