If you're in business, you know that hosting and attending events is crucial to developing and strengthening relationships with customers and partners. It's more than just a gathering of organisers and executives; a successful event can pave the way for future fundraising, product sales, and even partnerships. But throwing an event can be a lot of work – from tracking registrations to managing exhibitors, a lot goes into making an event successful. That's where event management software comes in. This handy tool can help take some of the burdens off your shoulders, making it easier to plan and execute your next event. 
So what is event management software, and what can it do for you? 
Event management software is a category of business solutions that helps organisations plan, execute and measure different types of events. In other words, it is a group of applications used to manage every task related to an event, including those that happen before, during, and after the event. One can use event management solutions to manage both physical and virtual event experiences, which often include Virtual conferences, Virtual trade shows, Virtual festivals, product launches and corporate meetings. 
In recent years the event management software market has proliferated in response to the demand for more sophisticated event management solutions. According to a report by The Business Research Company, the event management software market is expected to grow to $11.75 billion in 2026 at a CAGR of 15.7%.
One of the primary factors propelling this expansion is the need for efficient event management solutions among small and large enterprises, along with the increase in corporate event spending and the growth of the meetings industry.
Furthermore, businesses are more focused on levelling out the playing field through event management software that can collect and analyse real-time data allowing for better decisions in areas like customer service, partnership management and marketing processes. According to the 2019 Event Marketing Report by Bizzabo, 58% of B2B companies use event software for their events. 
The Evolution of event management software  
Event management software has come a long way since the early days of on-premise event planning solutions. Early event management solutions were often complex, expensive and difficult to use, which made them inaccessible to many event organisers. 
For example, before digitisation was commonplace, most events were analogue affairs, with little in the way of digital enhancements. There was a strong focus on exchanging business cards and physical attendance. Buying and selling tickets were considered time-consuming, while marketing primarily relied on word of mouth instead of online promotion. 
So what changed?
Throughout history, man's natural inclination has been toward invention. The emergence of a requirement or issue has always served as the primary impetus for innovation. Like the wheel facilitated travel and the printing press disseminated knowledge, similarly, event management software has advanced with the advent of technology.
While it's fair to say that the advancement of technology has had a profound impact on the event industry, it's also accurate to characterise the impact as more evolutionary than revolutionary. In other words, event professionals have slowly and steadily integrated new products and capabilities over time rather than adopting them en masse in response to a specific event planning challenge or opportunity.
Consider, for example, the event management software landscape. Before 2000, popular event planning software products included Meeting Maker and Lotus Notes, which offered limited business collaboration functions, such as contact management, discussion forums, file sharing, instant messaging and the ability to reserve necessary meeting resources like conference rooms and audiovisual equipment.
However, this changed entirely with the introduction of cloud-based event management solutions in the late 2000s that altered the landscape of the event industry by making event planning more affordable and easier to use. 
Since then, the event management software market has continued to evolve at a rapid pace, with new technologies and features getting introduced regularly. According to Market Charts, event management and event automation software are ranked as the most crucial technology to deliver a successful event outcome.
Today, the market's most popular event management system offers face-to-face, online, and hybrid experiences with projection mapping, static or animated recreation, and even virtual reality experiences to wow attendees.  
Types of Event Management Software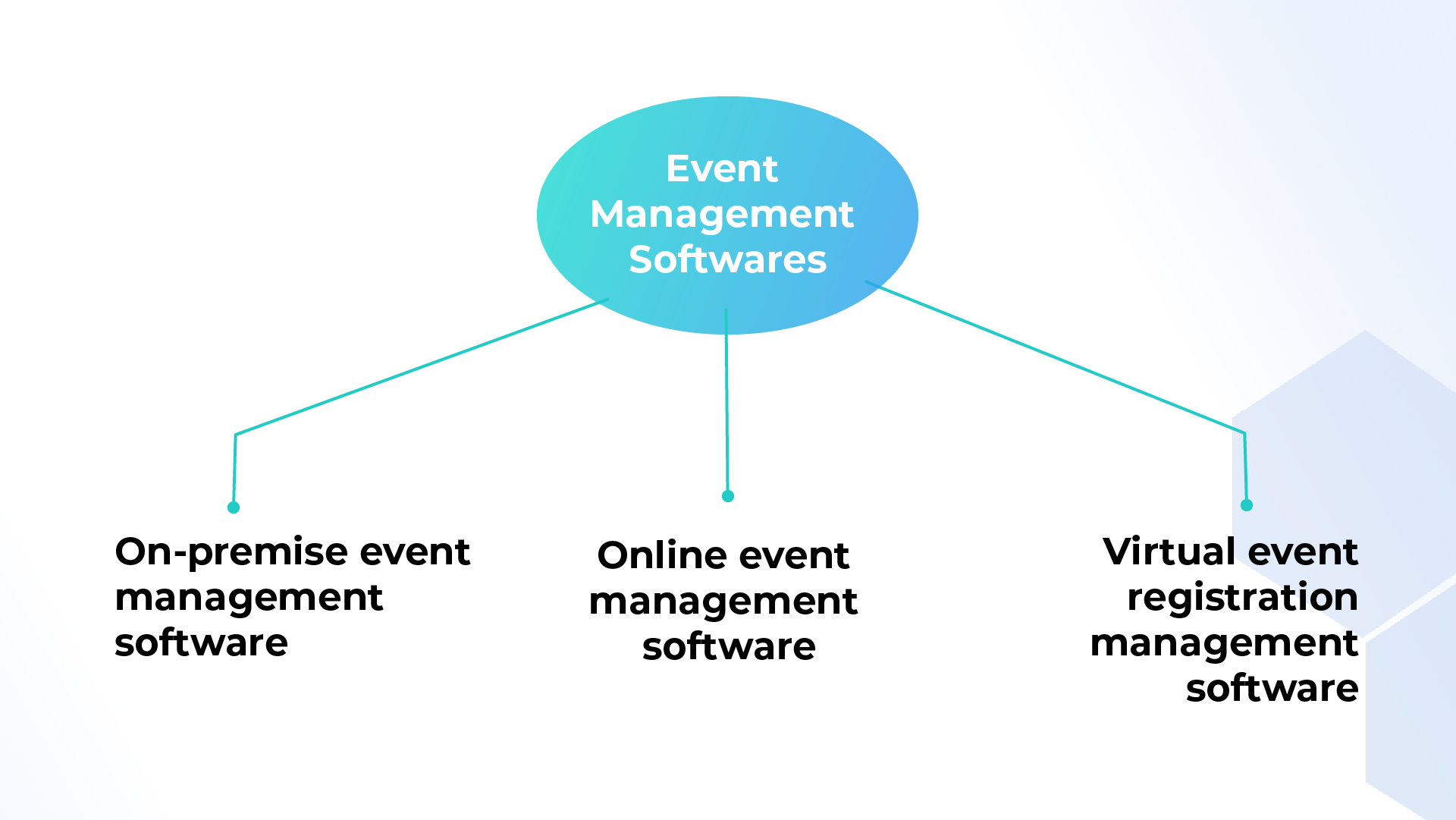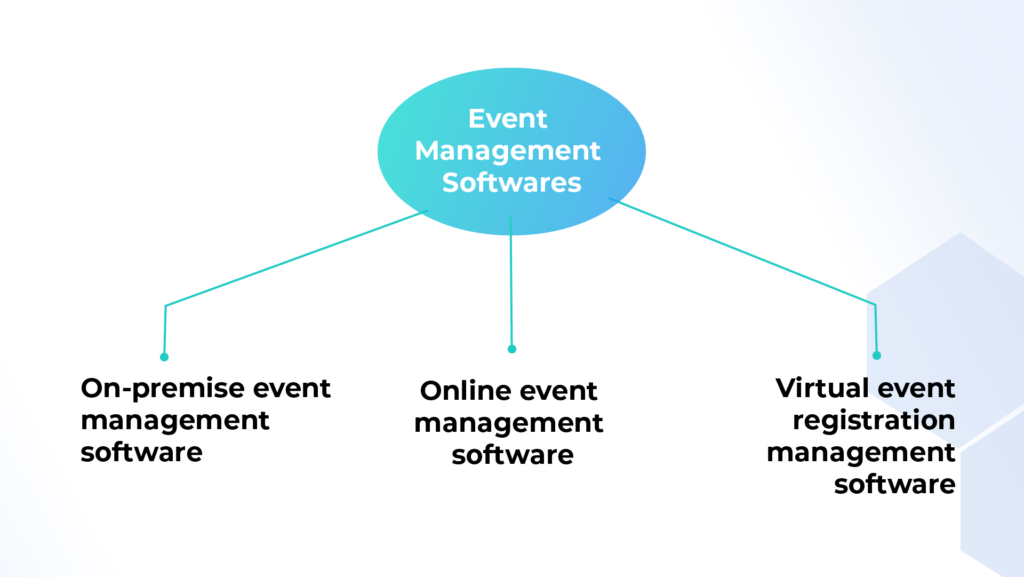 As the world of events has become more complex, so have the tools. Today, a wide variety of event management software solutions are available on the market, each with its unique set of features and benefits to stay ahead of the competition.  
The most common types of event management software include:-
Online event management software: Online event management software solutions are cloud-based platforms that can plan, promote and measure events. These platforms often come with various features, such as event websites, ticketing tools and event apps.
Virtual event registration management software: Virtual event registration management software solutions are cloud-based platforms that can manage virtual events. These platforms often come with various features, such as webcasting capabilities, chatbots and virtual reality (VR) integration. 
On-premise event management software: On-premise event management software solutions are installed on local servers. These solutions are typically more expensive than cloud-based solutions and require more IT resources to maintain. However, they offer more control over event data and can be customised to meet an organisation's specific needs.
Also Read | Explore all the best event management software tools available in the market.
Why Use Event Management Software?
Event management software can offer several benefits to those who use it. With event management software, you have visibility of every detail and every action that has been carried out in the organisation of your event. This aids in spotting any errors or miscalculations immediately so they can be put right without affecting other areas or processes.  
Some of these benefits include:- 
Improved event planning and coordination: One of the biggest benefits of using event management software is that it can help save time by streamlining the event planning process. It can help you manage your event budget, create timelines, coordinate event logistics, and more. 
Increased ticket sales: Event management software solutions can be used to increase ticket sales. These platforms often come with various marketing tools, such as email marketing and social media integration, that can be used to promote events and sell tickets.
Improved event experiences: Event management software solutions can be used to create more engaging and memorable event experiences for attendees, exhibitors and sponsors. Features like webcasting, gamification, live polls, leaderboards, and more can help improve the event experience. 
Reduced event costs: Event management software solutions can also be used to reduce event costs. These platforms often come with various features, such as event websites and ticketing tools, that can save organisations time and money.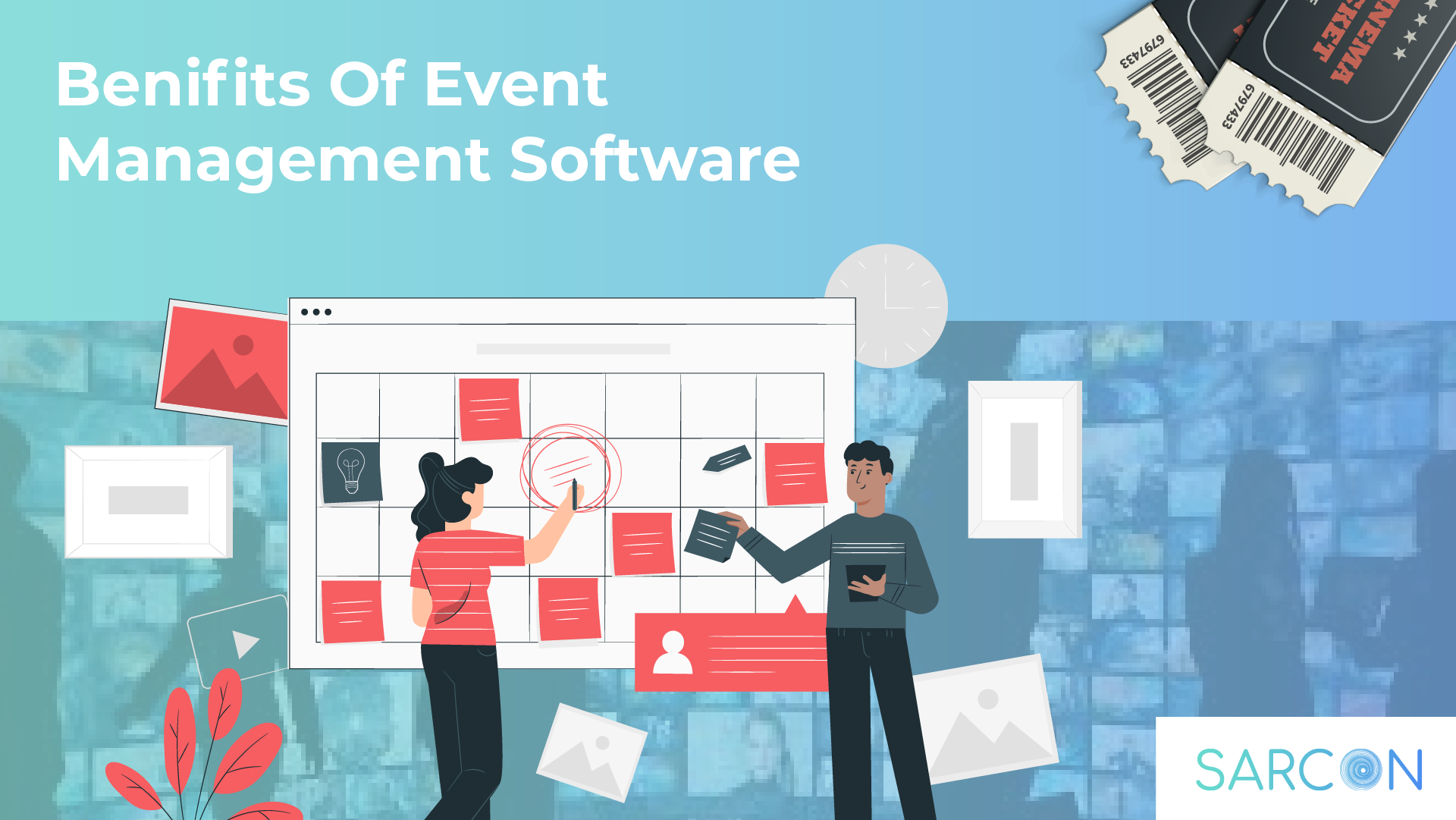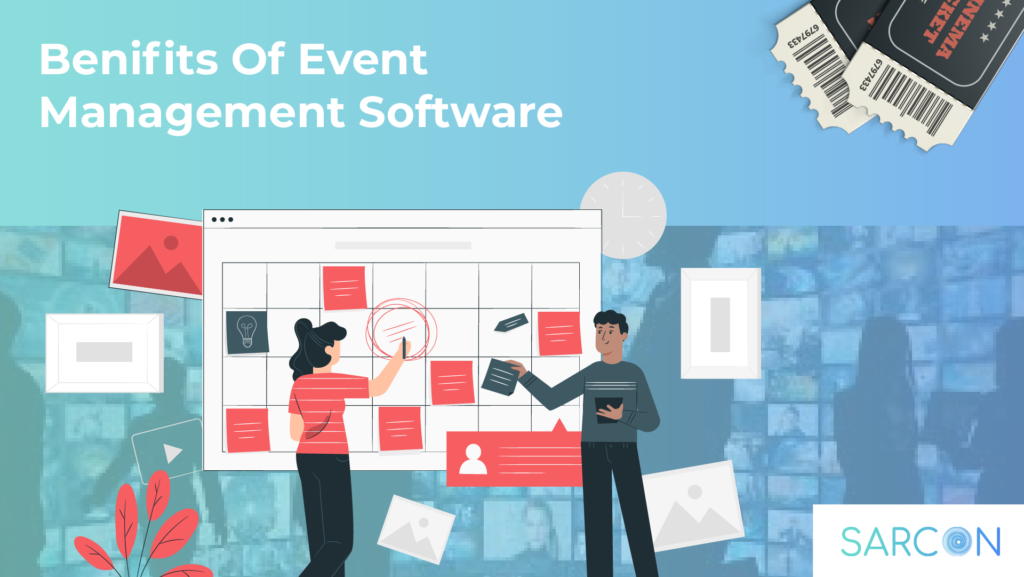 Not convinced yet?
Here are 10 additional reasons for investing in event management software:
1. Automatic task management
With event management software, you can set up tasks and reminders for yourself and your team. This way, you'll never have to worry about forgetting an important detail. And you can be sure that everyone on your team is on the same page.
2. Stay organised with all your event details in one place
Event management software gives you a central place to store your event's details. This includes contact information for vendors, attendees, and speakers, and it also provides information about your venue, schedule, and budget.  
3. Event data collection and analysis
Most event management software comes with powerful analytics tools. These tools can help track your event's progress and see what works well. They can also help you identify areas for improvement.
4. Reduce carbon footprint
Many event management software platforms now offer green features. These features can help you make your event more sustainable by reducing paper waste and carbon emissions. Furthermore, they can also help you save money on your event budget.
5. Seamless communication with attendees, speakers and organisers
With event management software, you can easily send messages to everyone involved in your event. This includes attendees, speakers and organisers. Some software enables you to create mobile apps for your event, giving attendees instant access to all the event information they need.
6. Accept online payments for tickets and merchandise
You can use event management software to accept online payments if you're selling tickets or merchandise at your event. This is a convenient way for attendees to pay and can help you save time and money on processing payments.
7. Professional website for your event
Most event management software platforms offer template websites and event microsite that you can use to promote your event. These websites are easy to set up, and they're designed to look professional. They can also include all the important details about your event, such as the schedule, speakers, and ticket prices.
8. Sell tickets online with ease
With event management software, you can easily sell tickets online through the software's website or a third-party ticketing website. Either way, you'll be able to accept payments and track ticket sales easily.
9. Customer support
With event management software, you'll have access to customer support either through phone, email or live chat support. This means that if you have any questions or problems, you can contact the software's customer support team for help. 
10. Feedback 
Event management software can also be used to create surveys that can be sent out to attendees after an event. These surveys can gather feedback about the event and identify areas where customer support may be needed.
The benefits of an event management software solution are numerous and can positively impact all aspects of your business. If you are looking for a way to improve how you manage your events, investing in an event management software solution like Sarcon is a wise decision.
Difference between online and offline/physical events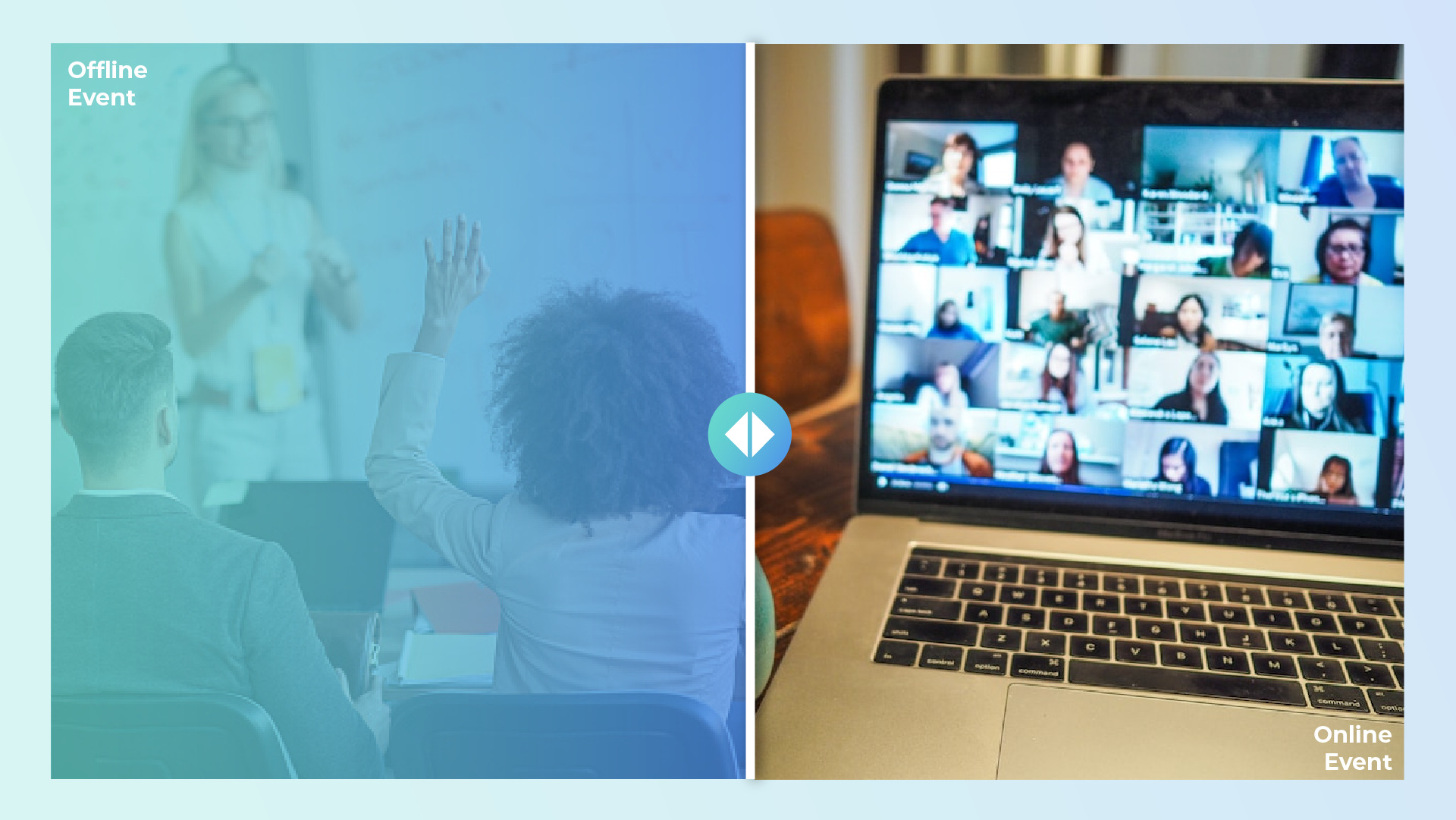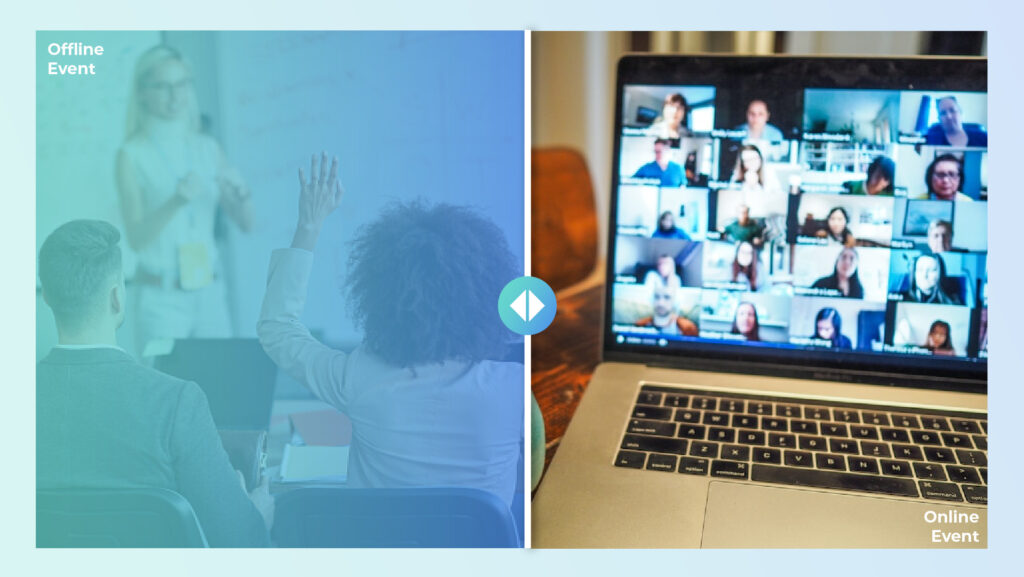 There are several key ways in which online events differ from offline/physical events. For one, online events tend to be more intimate. With everyone in the same "room", so to speak, it's easier to network and connect with other attendees. You can also move around the "room" as you please, without worrying about lines or crowds. 
On the other hand, physical events tend to be more expensive to attend. You have to pay for travel, accommodation, and other incidentals on top of the event ticket itself. Online events are much cheaper in comparison, as you only need to worry about the ticket price.
Of course, there are also some downsides to online events. Chief among them is that you can't "experience" the event the same way you would if you were there in person. Additionally, online events can be more prone to technical difficulties, such as audio or video issues.
At the end of the day, it's up to you to decide which type of event is right for you. If you're looking to save money and don't mind sacrificing some of the "experience," an online event is probably your best bet. But if you want to go all out and have the whole experience, a physical event is still the way.
What to consider when buying an event management system?
There's no question that event management software is a vital tool in any event planner's arsenal. But with so many different event management systems on the market, it can be tough to know which one is right for your business. Here are a few things to consider before making your decision:
1. Functionality
There are a few key features you need to consider when it comes to event management software. Ensure it has all the necessary features to run your events smoothly and efficiently. Additionally, make sure the software is compatible with your industry or niche- this will save time on planning and organising events. 
You also want an event management software that is easy to use- something that functions quickly and intuitively so you can get started right away! As well as being affordable, be sure not to skimp on functionality either; good software should offer ample options for customisation so you can tailor it specifically for your business needs. Sarcon seamlessly offers these functionalities. 
2. Integration 
According to Markletic event research, 70.6% of event organisers look for marketing automation integrations when selecting a virtual event platform. Therefore, it's important to make sure you choose software with integrative capabilities to work with other software programs in your business. This will allow you to handle events more efficiently and effectively by integrating various systems into one platform.
Furthermore, look for an event management system with a broad range of features so you can manage all aspects of your events well. Furthermore, ensure that the data required for processing events (dates, times, guests etc.) are easily accessible and processed correctly. Finally, review customer support and licensing agreements before making a purchase decision.
3. Scalability
Event management software is a key tool for organisers of large-scale events. It helps manage registration, ticketing, billing processes, and event logistics such as catering and security. The software should be scalable to accommodate a high number of attendees and events at the same time. 
Furthermore, it should have an easy-to-use interface so that even non-technical individuals can manage their events effectively. Lastly, ensure the software can handle multiple registrations and checkouts simultaneously. 
4. User friendly
Regarding event planning software, user-friendliness is of the highest importance. A good platform should have a wide range of features that will help streamline your event planning process. Additionally, it should be easy for you to input and manage events from one place. Ideally, the software interface should be user-friendly and visually appealing so that you can focus on what's essential – hosting a fantastic event!
5. Support
When you're running an event, the last thing you want is to be left in the dark if something goes wrong with your software. That's why choosing an event management system with good customer support is essential.  
Additionally, check to see if the company offers training or onboarding services to help you get the most out of their event management system. This can be extremely helpful, especially if you are new to using such software.
At Sarcon, we understand the importance of customer satisfaction and offer great support. We're always here to help with any issues you may have- just reach out to us, and we'll be happy to assist!
6. Security
When it comes to event management software, security is of paramount importance. Make sure that the platform you choose offers a high level of security so that you can protect your events and guests from any potential risks.
Additionally, the software should have a robust authentication system to prevent unauthorised access. Furthermore, it should allow you to set up different access levels for users to control who sees what information. 
7. Social Media
Social media is one of the most popular forms of marketing and can play a crucial role in event management. Research by Event MB (now part of Skift Meetings) found that 58% of marketers utilise social media to promote their events before, during, and after the events themselves.
By using social media platforms for event marketing, you can create a buzz about your event and raise awareness. You can also use social media to track and measure the success of your events. Make sure the software you select has features that will help you manage all aspects of your events smoothly- from invitations to post-event follow-ups.
To sum up, you need to consider many things when purchasing an event management system. Before making your final decision, consider functionality, integration, scalability, user-friendliness, and support.
What features to look for in event management software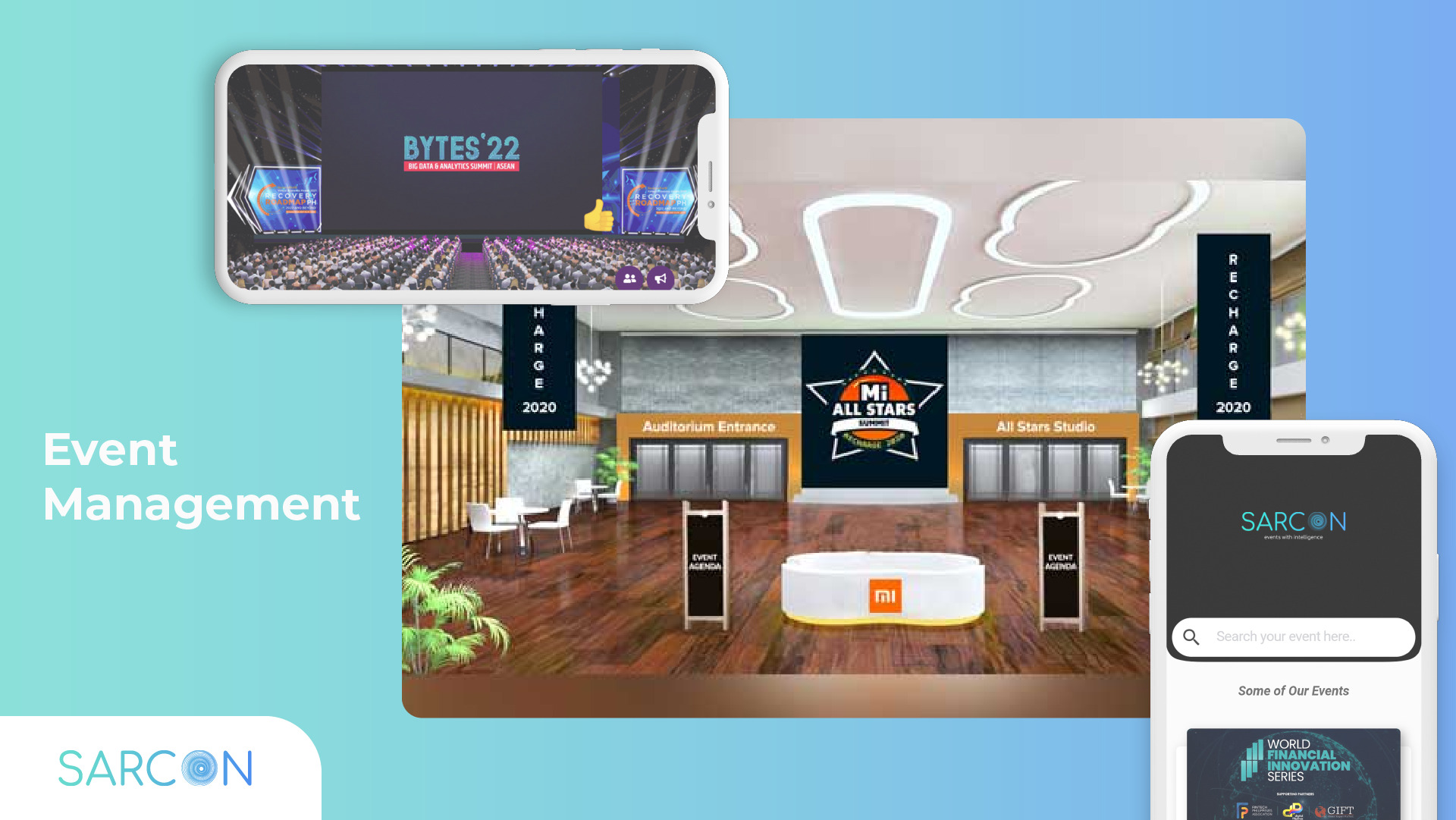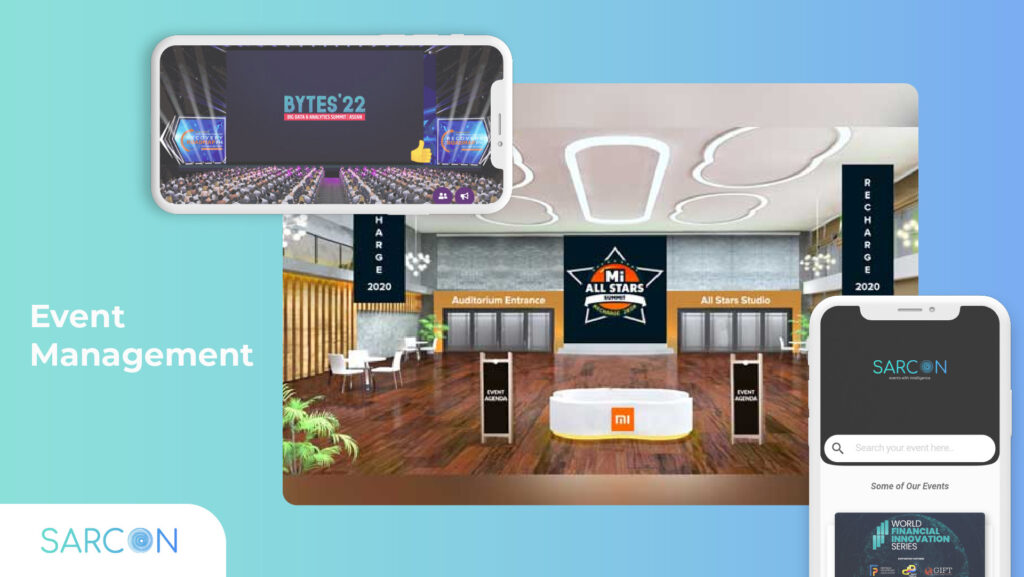 With technology constantly improving, consumers have high expectations for businesses. They want unforgettable experiences and content worth their time reading or viewing. If a business cannot provide this, it will get lost in the sea of other businesses striving to be memorable.
When choosing an event management software, it is important to consider your organisation's and your attendees' specific needs. We have narrowed down some common features to look for based on the event type:
Virtual events: 
The ability to host a live stream or webinar
A platform that is easy to use and navigate
Attendee engagement features such as chatbots, Q&A sessions, polls and surveys
Inbuilt marketing and promotional tools
Integrations with other software platforms
Customisable event branding
Security features such as password protection and IP restrictions
Physical events:
An intuitive drag-and-drop interface for floor plans and seating arrangements
Onsite check-in and registration capabilities
The ability to scan tickets and badges
Integrated payment processing
Lead capture and tracking
Real-time analytics and reporting 
Software that is compatible with mobile devices 
Social media integration 
Live updates and push notifications 
Both virtual and physical event management capabilities 
Seamless integration between the two platforms 
Flexibility to switch between the two modes
A consistent branding experience across both platforms
Conclusion
In short, event management software is a must-have for anyone planning a successful event, virtual or otherwise. Choose an event management software like Sarcon that will make the process as smooth and stress-free as possible. Explore each option thoroughly before making any decision – doing so will ensure you get the best possible value for your money. The last thing you want is your attendees to have a negative experience because of technical difficulties. And don't forget about features such as mobile compatibility and social media integration! They can come in handy during events!
By keeping these features in mind, you can be sure to choose a platform that will exceed your expectations. If you have any questions or comments, please feel free to reach out. We would love to hear from you!