Designing and promoting your virtual events can be initially daunting. Marketing your event is a clever combination of content and messaging to nudge visitors and encourage them to check out what you have to offer. The first step is to choose the most suitable vendor for virtual events and understand what works for you. Next is the promotion and marketing efforts to bring in the relevant audience and sponsors and drive leads and conversions, culminating in a successful event.
Here are a few ways you can promote and market your virtual event:
Choose the Right Time to Market
When promoting your virtual events, keeping the prospective audience's attention is essential. For this reason, the timing of sending out the marketing collateral is as essential as the content itself. If it's too early, your target audience might lose interest. But if it is done too late, the overall reach of your marketing efforts might not correlate with your projected outcome.
Pro-Tip: A good rule of thumb is to set up your initial promotional and marketing collateral like an event landing page 2 – 4 weeks before the event goes live to increase visibility and audience turnout.
A landing page can generate hype, create excitement, and encourage those interested in signing up for the event. This can be done while the event is being set up. In some situations, it is better to start earlier to bring the niche audience you are looking for.
This cannot be emphasized enough – quality content is the foundation for any and all marketing and outreach efforts. Content in different formats such as articles, guest posts, and event highlight videos can encourage people to sign up. Of course, the takeaway should always be providing helpful information and asking them if they're interested.
Collaborating with influencers and leaders in different industries for co-authored articles is another way to share insights that can be useful and relevant to your audience.
Other content formats like videos, podcasts, image carousels, Instagram Reels and stories, polls, and Twitter posts (with relevant hashtags) are great at providing a variety of content types and can be distributed across different platforms.
Press Releases
Press releases can effectively get comprehensive coverage quickly, especially for B2B-focused virtual events. Crafting a good press release as part of pre-event marketing can help you get in front of the right audience.
Read More: 9 Types of Virtual Events You Must Focus in 2021
Key points that should be mentioned in the PR:
The intended audience
The value proposition of the event
Event details: Date, Time, Landing page
Noteworthy speakers/sponsors/guests
Email Marketing
Follow-up emails to subscribers can be effective reminders for the event and generate that extra buzz. A subscriber database is an often overlooked audience group, and proactively reaching out to them through targeted emails can increase interest and event attendance.
Did you Know: That 76% of marketers say that email is the single most effective way to drive registrations. (Source)
Modern virtual event platforms have inbuilt email marketing with many advanced features so that you no longer need to rely on third-party software for your email marketing. 
Key areas of focus:
Target audience
Frequency and number of emails to be sent
Catchy title
Concise and compelling body text
A CTA that stands out
Read More: 5 Email Marketing Tips: Increase your virtual event turnout.
Focusing on the audience that would be most interested in the event is an excellent place to start mining for prospective leads. If your mail list has additional information on each recipient, you can filter out and plan according to that data. Another important tactic is to do A/B testing to see which Emails get the most traction.
Highlight Reels/Promo Videos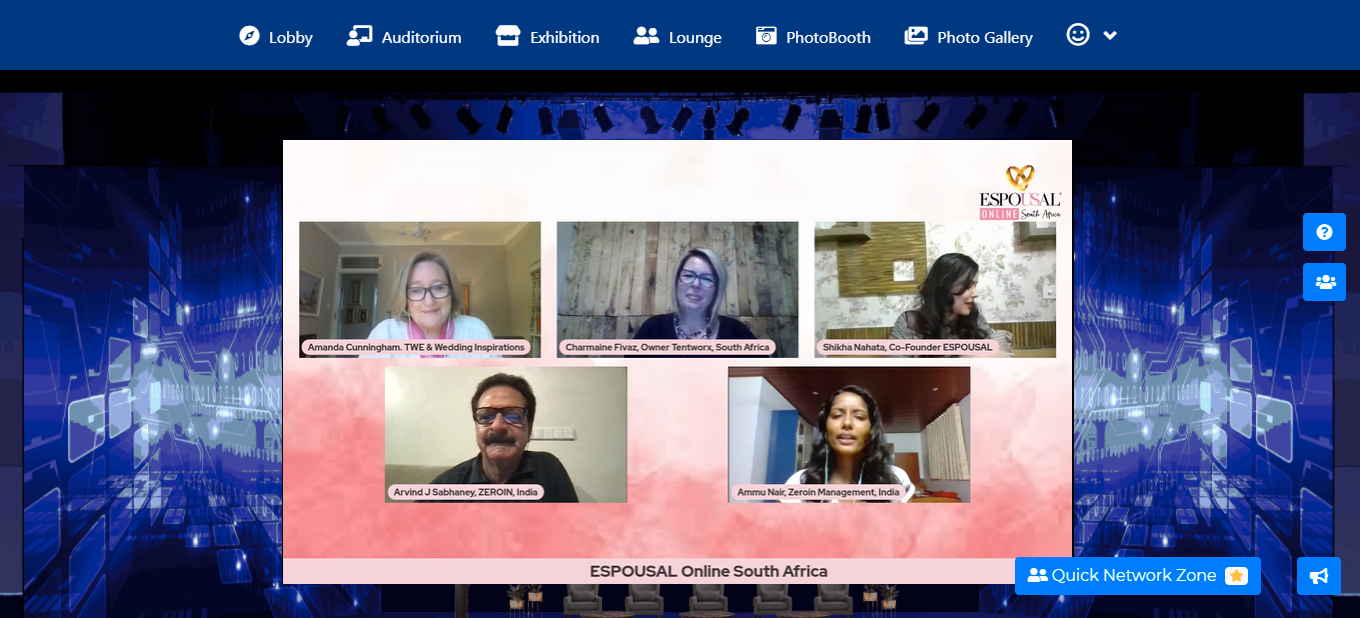 Video is arguably one of the most effective ways to convince more people to sign up for your event by generating excitement.
Promo videos showcasing information in an engaging and exciting format can help build and enhance brand awareness. Teasers, customer testimonials, and previous event highlights are other formats that work well.
Promoting your virtual event on Social Media
Social media platforms effectively engage with the audience in real time through updates, announcements, and more. You can utilize videos, image posts, podcasts, and so on to spread the word about your online conference. The marketing of an event can take place before, during, and after it has taken place on these platforms by utilizing both owned and earned media.
Collaborate with Key Members/Speakers
Getting the word out about your event promptly is essential to the event's success. Integrating key guests, sponsors, and speakers into your marketing plan by turning them into brand ambassadors can often become the core draw of the event. Promoting your virtual event this way can be an excellent channel for attracting more visitors.
Co-branding
Collaborating and working with sponsors through co-marketing will be mutually beneficial for both. Some ways to do this are collaborating on the social media push or sharing a subscriber database. Co-authoring a blog or appearing on a podcast are other ways to spotlight the sponsors and, by mutual association, your brand. Focus on marketing copy that speaks to the audience of both. If done right, this will undoubtedly add to the event's success.
These tips will help you get on the right path to a successful virtual event. Keep in mind that the vendor you select should be able to understand your exact needs and provide the features that are most relevant for you. Only then can this be a partnership that delivers results.
Learn how you can host amazing virtual events with Sarcon.